Adding coloured highlights to blonde hair can refresh your look and give you a trendy, personalised style. With so many colours and techniques to choose from, finding the perfect highlights to suit your individuality and enhance your features is easier than ever.
In 2023, some popular options include ash blonde, platinum, honey blonde, caramel, and strawberry blonde highlights. These shades can enhance your hairstyle without requiring a drastic change to your haircut.
To achieve the best results and a natural look, it's essential to consider your skin tone and base hair colour when selecting blonde highlights. For example, brown hair can be beautifully enhanced with blonde highlights for a more vibrant and brightened appearance. Lightening the hair through highlight techniques like balayage can also help reduce damage compared to dyeing your entire head of hair.
With so many stunning blonde highlight options available, you can confidently update your look and showcase your personal style. Embracing coloured highlights not only enhances your hair but can also boost your self-confidence and leave you feeling revitalised.
Understanding Blonde Hair Tones
Blonde hair comes in a wide range of shades and tones, each with its unique characteristics. To achieve the best results when choosing coloured highlights for blonde hair, it's essential to understand the different tones and undertones present in one's natural hair colour.
There are generally three primary blonde hair tones: cool, warm and neutral. Cool blondes tend to have ashy or icy undertones, while warm blondes feature golden or honey tones. Neutral blondes strike a balance between cool and warm tones, allowing for great versatility in highlight colour options.
For cool blondes, it's advisable to choose highlights that have a similar cool undertone, such as icy colour ribbons or platinum blonde. This helps maintain a harmonious colour scheme and prevents the appearance of unwanted brassiness. Cool-toned highlights can also add dimension and depth to the overall hair colour.
Warm blonde hair, on the other hand, looks most flattering with highlights in honey, caramel, or golden shades. These tones add vibrancy and sun-kissed warmth to the hair, perfect for those looking to achieve a more natural-looking result. It's also worth noting that warmer highlights can help create a softer, more radiant appearance.
Lastly, neutral blondes are fortunate as they can play with both cool and warm highlights due to their versatile base colour. A popular choice for neutral-toned blondes is the Frosted Cream look, which offers dimension and brightness while maintaining a natural, beachy vibe. This sun-kissed effect can easily be achieved by adding a blend of both warm and cool-toned highlights.
Ultimately, understanding blonde hair tones is essential in finding the perfect coloured highlights that will complement and enhance one's hair. When selecting the right highlight shades, keep in mind the undertones of the base colour and trust a professional hairstylist to guide you on the ideal options.
Best Coloured Highlights for Warm Blondes
Honey Highlights
Honey highlights are a sweet and stunning choice for warm blondes. They beautifully complement a warm base and add dimension to the hair. Honey blonde highlights tend to be a combination of pre-lightening with Blondor + 6% and using demi-permanent Color Touch 8/81 + 4% through the mid-lengths and ends. This creates a natural-looking blend that enhances the overall warmth and radiance of your blonde tresses.
Caramel Highlights
Caramel highlights provide a rich and indulgent contrast to warm blonde hair. They add depth and warmth, making your hair look fuller and healthier. Caramel highlights are often achieved using warm, golden tones that seamlessly blend with your natural hair colour.
To maintain the fresh, non-brassy appearance of caramel highlights, you may need a hair glossing service like the Wella Professionals Pure Glossing Treatment.
Strawberry Blonde Highlights
Strawberry blonde highlights are perfect for warm blondes who want to add a touch of femininity and playfulness to their hair. These highlights create a soft and delicate blend of warm blonde and light copper shades, giving your hair a unique and eye-catching look.
Strawberry blonde highlights work best when strategically placed throughout the hair, particularly around the face, to accentuate your natural features and complement your warm skin tone.
Best Coloured Highlights for Cool Blondes
Blonde hair offers a versatile canvas for various highlight options. Depending on your skin tone and personal style preferences, you can experiment with different colour combinations to achieve a dazzling look.
Icy Platinum Highlights
Icy Platinum highlights are a striking choice for those with cool-toned skin and blonde hair. This frosty shade adds an eye-catching contrast to your natural blonde locks without appearing too harsh.
The icy shade pairs well with lighter skin tones and creates a chic, contemporary look that truly stands out. To maintain the vibrancy of your icy platinum highlights, it's essential to use a purple toning shampoo and conditioner regularly to neutralise any brassy tones.
Ash Blonde Highlights
Ash Blonde Highlights provide a subtle, elegant look for cool blondes. This shade lacks the yellow undertones that may cause some individuals to appear sallow and is ideal for those with cool skin undertones.
Ash blonde highlights blend seamlessly with your natural hair colour and create a multi-dimensional, sophisticated appearance. To preserve the cool tones of your ash blonde highlights, incorporate specialised colour-protecting hair products into your routine.
Lavender Highlights
For a more daring yet still suitable option for cool blondes, Lavender Highlights can add a playful touch to your blonde hair. The soft purple hue provides a complementary contrast to cool blonde tones and looks stunning on various skin tones.
Lavender highlights can be as bold or subtle as you like, making them a versatile choice for expressing your individual style. To keep your lavender highlights vibrant and healthy, use colour-safe hair care products specifically designed for maintaining fashion colours.
Best Coloured Highlights for Neutral Blondes
Neutral blondes have a versatile base, which allows them to experiment with various highlight shades. The following sub-sections will discuss some of the top highlight colours that complement neutral blonde hair perfectly.
Champagne Highlights
Champagne highlights add a touch of sophistication and elegance to neutral blonde hair. This soft, golden hue is a perfect match for those who want to add warmth and dimension to their locks without straying too far from their natural colour.
Sandy Blonde Highlights
Sandy blonde highlights provide a natural and sun-kissed appearance to your neutral base. This colour blends effortlessly into your hair, giving it depth and texture without overpowering your natural shade.
Pearl Blonde Highlights
Pearl blonde highlights offer an ethereal and whimsical touch to your neutral base. Characterised by their cool, silvery undertones, these highlights can give your hair a unique and eye-catching appearance. For those with cooler skin tones or desiring a more fashion-forward look, pearl blonde highlights are an excellent option.
Highlighting Techniques
Balayage
Balayage is a popular highlighting technique that creates a natural, sun-kissed appearance on blonde hair. This method involves hand-painting highlights onto the hair, creating a soft and seamless blend of colours. The result is a low-maintenance look, as the highlights grow out evenly and blend with your natural hair colour.
Since balayage focuses more on the mid-lengths and ends of the hair rather than the roots, this technique is perfect for those who want a subtle colour change with less damage to the hair.
Foils
Foils are the traditional method for applying highlights on blonde hair. This technique involves placing small sections of hair in foil packets, which allows the colourist to isolate individual strands and apply the lightening agent evenly.
The foils help to keep the highlights separate from other sections of the hair, providing more precise and noticeable results. Foil highlights can be placed throughout the entire head or just around the face for a brightening effect.
The level of maintenance for foil highlights depends on the desired look, with more frequent touch-ups needed for a seamless blend.
Ombre
Ombre highlights involve creating a gradual transition of colour from darker roots to lighter ends. This technique is ideal for those who want to add dimension to their blonde hair without frequent touch-ups. The ombre style can be customised to different levels of contrast, from a subtle and natural-looking transition to a more dramatic change in colour.
To achieve this look, the colourist applies the lightening agent to the lower half or last few inches of hair, blending it carefully to avoid harsh lines. The final result is a beautiful, low-maintenance style that adds depth and movement to blonde hair.
Maintenance Tips for Coloured Highlights
Using Colour-Safe Shampoos and Conditioners
To keep your blonde highlights looking fresh and vibrant, it's important to use colour-safe shampoos and conditioners. These products are specifically formulated to preserve the colour and prevent it from fading or turning brassy.
For blonde highlights, a purple shampoo or conditioner, such as the L'Oréal Paris EverPure Blonde line, can be particularly beneficial as it helps to neutralise yellow tones and brighten the colour.
Limit Heat Styling
Heat styling tools, such as straighteners and curling irons, can cause further damage to coloured hair. To ensure the longevity of your blonde highlights, try to limit the use of heat styling tools. When you do use them, protect your hair with a heat protectant spray to reduce the risk of damage.
If possible, embrace your hair's natural texture. You can also experiment with various heat-free styling techniques, such as braids or buns, to achieve different looks while maintaining your hair's health.
Protect Hair from Sun Exposure
Sun exposure can have a negative impact on your blonde highlights, causing them to fade or change colour. To protect your hair from sun damage, invest in hair care products that contain UV filters, like the ones found in L'Oréal Paris EverPure Blonde line.
Moreover, consider wearing a hat or a headscarf when spending extended periods outdoors, especially during peak sun hours, to keep your highlights vibrant and protected.
By following these maintenance tips and incorporating colour-safe products and protective measures into your hair care routine, you can help ensure your blonde highlights remain stunning and vibrant for as long as possible.
Conclusion
In summary, choosing the best coloured highlights for blonde hair can greatly enhance your overall look and showcase your personality. A walnut blonde hue, which combines warm and creamy elements, creates a perfect balance between rich and golden blonde tones. This shade is not too bright but still noticeably blonde, making it a great option for those who prefer a more subtle look.
Another popular choice for blonde hair is the incorporation of ash, platinum, and silver highlights. This combination of neutral shades complements dark blonde hair and allows you to maintain a cooler tone. To preserve the colour and vibrancy, it's essential to use shampoo and conditioners specifically formulated for colour-treated hair.
For individuals with darker skin tones, adding golden, honey, butterscotch, and caramel highlights can effectively accentuate warm undertones. These shades work best on blonde or lighter brown hair and can bring out the best in your complexion.
Remember that maintaining your chosen highlight colour is also crucial for long-lasting results. Regularly using a colour-correcting mask, such as Wella Professionals recommendations, can help keep brassiness at bay and enhance your highlights. Additionally, reducing excessive heat styling can further prevent your hair colour from fading or turning brassy.
Ultimately, the key is to select a shade that complements your skin tone, hair type, and lifestyle. Consult with a professional hairstylist to explore your options and achieve the desired effect, knowing you're making an informed decision based on expert guidance.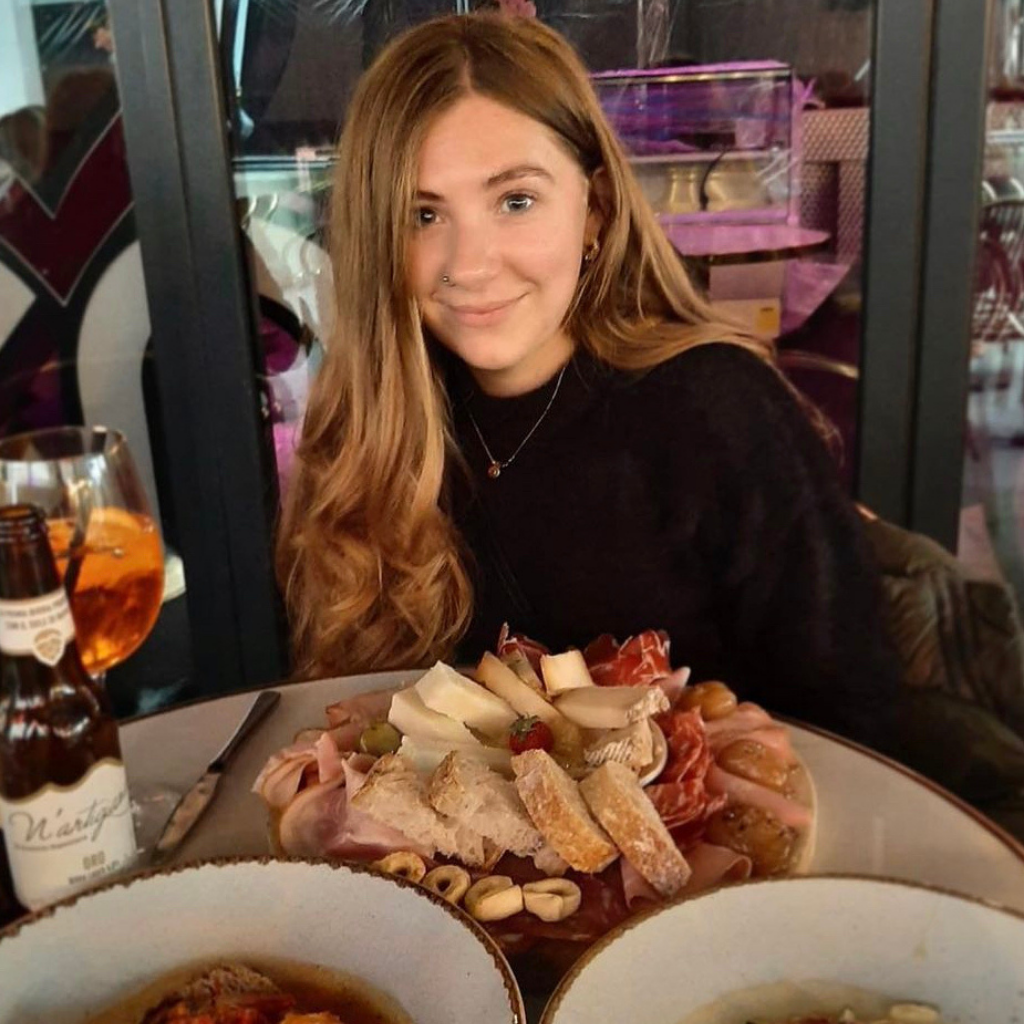 I'm Jennifer a beauty and wellness expert. I believe in promoting a sustainable and healthy lifestyle from within. Helping people feel good is my passion; whether it's teaching yoga or offering skincare advice.